was held from August 25–26, 2017, in Hotel Lev in Ljubljana, Slovenia.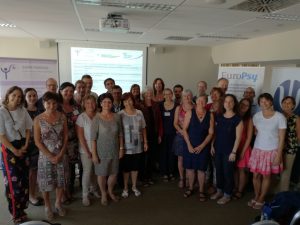 An international  group of conference participants
A successfully completed one-year supervised practice is one of the criteria for developing competences needed for practicing psychology and for obtaining the European Certificate in Psychology – EuroPsy. Different models of supervised practice are present in different countries, and there are differences in supervisor's practice and training. The aim of the conference was to present the current state of affairs in supervised practice and to exchange the expertise and good practice between different countries.
Download the final conference programme here. 
Abstracts of conference presentations are published in the journal Horizons of Psychology.
For conference presentations please write to: anja.podlesek@ff.uni-lj.si .
The conference was funded by Norway Grants 2009–2014 (http://www.norwaygrants.si, http://eeagrants.org/), by national funds of the Republic of Slovenia (www.svrk.gov.si/en/), and by EFPA.
The conference was organised by Department of Psychology, University of Ljubljana, in collaboration with Slovenian Psychologists' Association, Norwegian Psychological Association, Andrej Marušič Institute at University of Primorska, and ISA institute, and under the auspices of the EuroPsy European Awarding Committee.